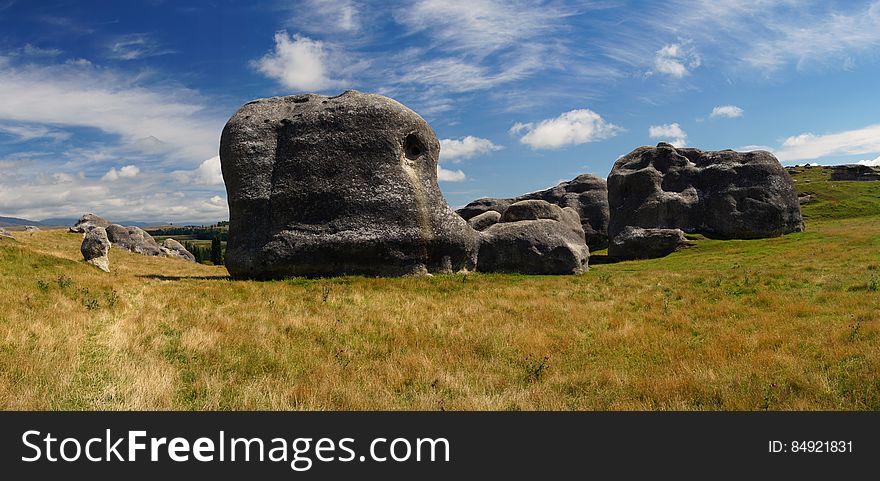 Web 800x374px 28.22cm x 13.2cm@72dpi
HQ 2535x1184px 21.46cm x 10cm@300dpi
You can use this free image under the Creative Commons Zero (CC0) public domain license. Support our free section by adding a credit line next to the photo in your design. A suggestion is provided under the title.
Elephant Rocks Otago.
Located near Duntroon, between Oamaru and Omarama in Otago, the Elephant Rocks are fairly straightforward to find: from near Duntroon, take Livingston-Duntroon Road and follow the signposts until you get to the Elephant Rocks.The Elephant Rocks are massive limestone formations sitting in a sea of grass on private farmland. The rocks were once sand at the bottom of the sea that accumulated 25 million years ago. These sediments were buried and the pressure turned the sand into rock, or limestone. When the whole area of limestone lifted and surfaced, the forces of the wind and water did their part in shaping the limestone.The rocks come in all shapes and sizes, and are popular with climbers, especially for doing some serious bouldering. The area may also give some people a certain sensation of déjà vu; especially those that are fans of "The Chronicles of Narnia" movie: the Elephant Rocks served as a location for Aslan's camp.