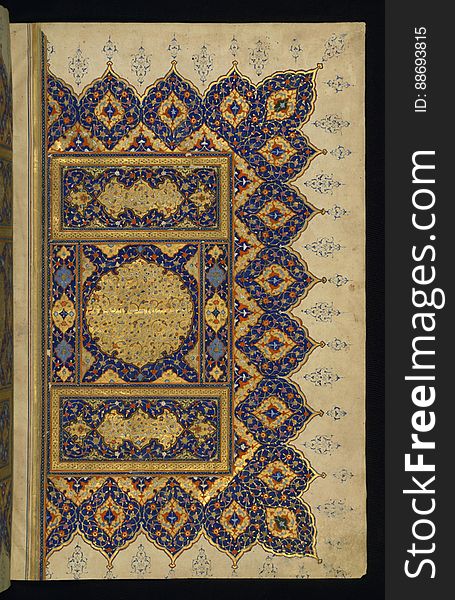 Web 513x800px 18.11cm x 28.2cm@72dpi
HQ 2310x3600px 19.56cm x 30.5cm@300dpi
You can use this free image under the Creative Commons Zero (CC0) public domain license. Support our free section by adding a credit line next to the photo in your design. A suggestion is provided under the title.
Illuminated Manuscript Koran, Walters Art Museum Ms. W.569, fol. 331b
An illuminated large size copy of the Koran (Qur'an) produced in the 11th century AH / 17th CE in Iran. Apart from using a number of scripts, such as naskh, muḥaqqaq and tawqīʿ, this codex features six pairs of decorated pages, two illuminated headpieces, as well as illuminated chapter headings, cloud-bands, and marginal decoration. The black morocco binding has a central piece in the form of a diamond with pendants on four sides. The inner covers, having a traditional dentelle decoration, features text from the "the verse of the throne" (āyat al-kursī), which is inscribed in the outer frame. Richly decorated page with a prayer to be recited at the end of the Qur'anic text. The prayer is inscribed in the center medallion in white muḥaqqaq script.