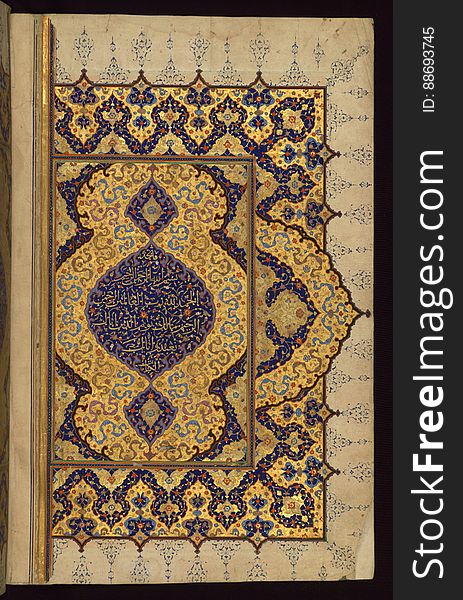 Web 524x800px 18.5cm x 28.2cm@72dpi
HQ 2360x3600px 19.98cm x 30.5cm@300dpi
You can use this free image under the Creative Commons Zero (CC0) public domain license. Support our free section by adding a credit line next to the photo in your design. A suggestion is provided under the title.
Illuminated Manuscript Koran, The right side of a double-page opening inscribed with verses of the first chapter &x28;Sūrat al-
An illuminated large size copy of the Koran (Qur'an) produced in the 11th century AH / 17th CE in Iran. Apart from using a number of scripts, such as naskh, muḥaqqaq and tawqīʿ, this codex features six pairs of decorated pages, two illuminated headpieces, as well as illuminated chapter headings, cloud-bands, and marginal decoration. The black morocco binding has a central piece in the form of a diamond with pendants on four sides. The inner covers, having a traditional dentelle decoration, features text from the "the verse of the throne" (āyat al-kursī), which is inscribed in the outer frame. The right side of a double-page opening decoration containing the text of the first chapter (Sūrat al-fātiḥah) inscribed in the center medallion in gold muḥaqqaq script on a blue background.