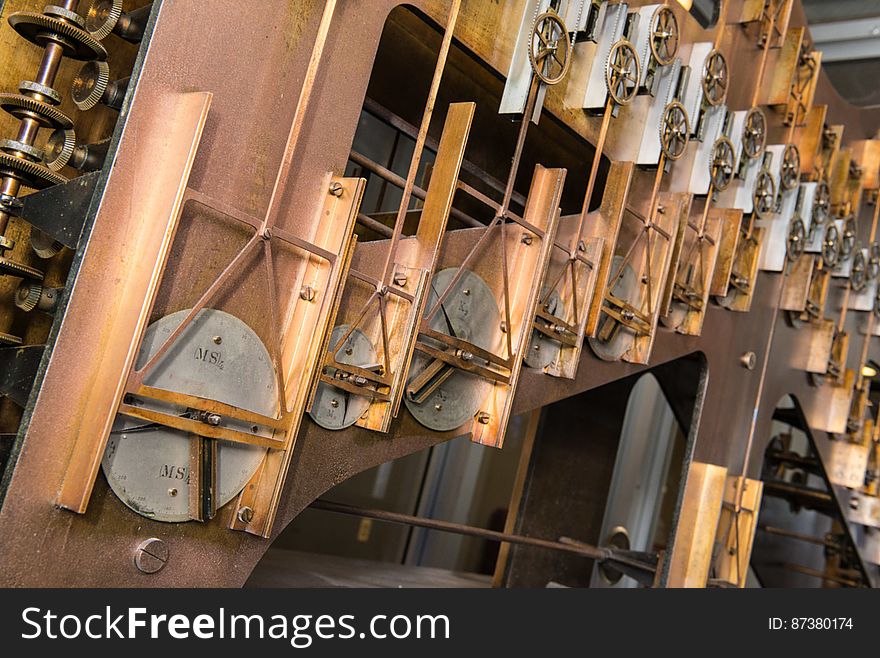 Web 800x534px 28.22cm x 18.8cm@72dpi
HQ 2600x1736px 22.01cm x 14.7cm@300dpi
You can use this free image under the Creative Commons Zero (CC0) public domain license. Support our free section by adding a credit line next to the photo in your design. A suggestion is provided under the title.
Tide Formula Component Cranks on Tide Predicting Machine No. 2
Tide formula component cranks on Tide Predicting Machine No. 2, a special purpose mechanical analog computer for predicting the height and time of high and low tides. The mechanical arrangement (a slotted crank yoke) converts circular motion to a sinusoidal motion. The operator adjusts the position of the pin on each crank to represent the tide formula at a specific port before starting computations. The pin position affects the amplitude and phase of the sinusoid. The U.S. government used Tide Predicting Machine No. 2 from 1910 to 1965 to predict tides for ports around the world. The machine, also known as "Old Brass Brains," uses an intricate arrangement of gears, pulleys, chains, slides, and other mechanical components to perform the computations. A person using the machine would require 2-3 days to compute a year's tides at one location. A person performing the same calculations by hand would require hundreds of days to perform the work. The machine is 10.8 feet (3.3 m) long, 6.2 feet (1.9 m) high, and 2.0 feet (0.61 m) wide and weighs approximately 2,500 pounds (1134 kg). The operator powers the machine with a hand crank.
1910,
2016,
dial,
gear,
high,
low,
md,
noaa,
old,
tide,
us,
yoke,