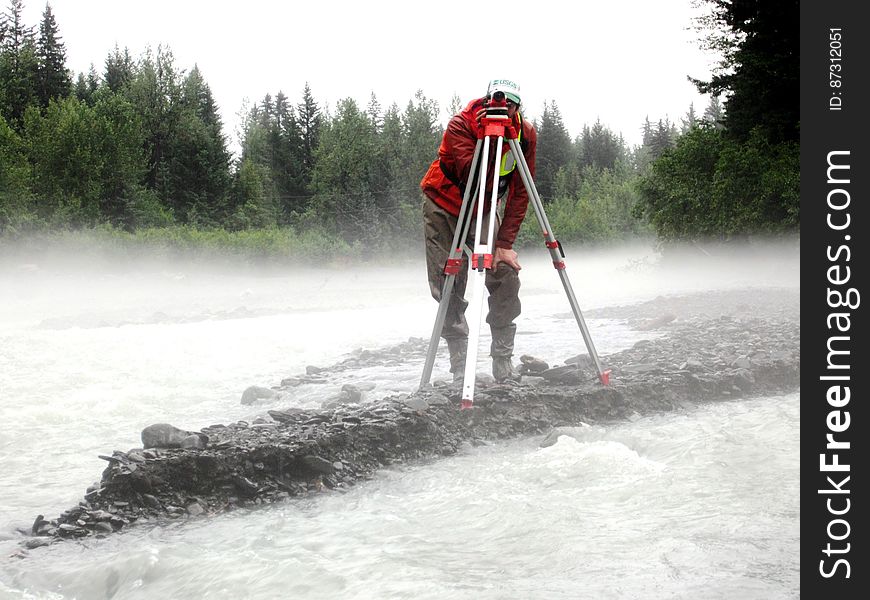 Web 800x600px 28.22cm x 21.2cm@72dpi
HQ 4000x3000px 33.87cm x 25.4cm@300dpi
You can use this free image under the Creative Commons Zero (CC0) public domain license. Support our free section by adding a credit line next to the photo in your design. A suggestion is provided under the title.
Using Science to Improve Infrastructure
Using Science to Improve Infrastructure — In this photo, we see Paul Schauer (USGS) running a level survey for the streambed scour project in Seward, Alaska. The goal of this type of work is to evaluate the scour susceptibility of bridges in order to identify structures that require mitigation of the scour problem, annual monitoring, or near real-time scour monitoring. Bridge scour is​ basically​ the removal of sediment (like rock, sand, etc) from around the bridge causing it to weaken. Streambed scour at bridges is the leading cause of bridge failure in the United States. The costs associated with restoring damaged structures are substantial, but the indirect costs associated with the disruption of traffic can be up to five times greater. These costs and the societal repercussions are even greater in Alaska, where alternate land routes between many cities do not exist. Flood damage to two bridges on the George Parks Highway between Anchorage and Fairbanks closed the highway for four days in August 2006 and repair costs to these structures and others damaged during the flooding are estimated at over 13 million dollars. Learn more about this project at bit.ly/AKScour.