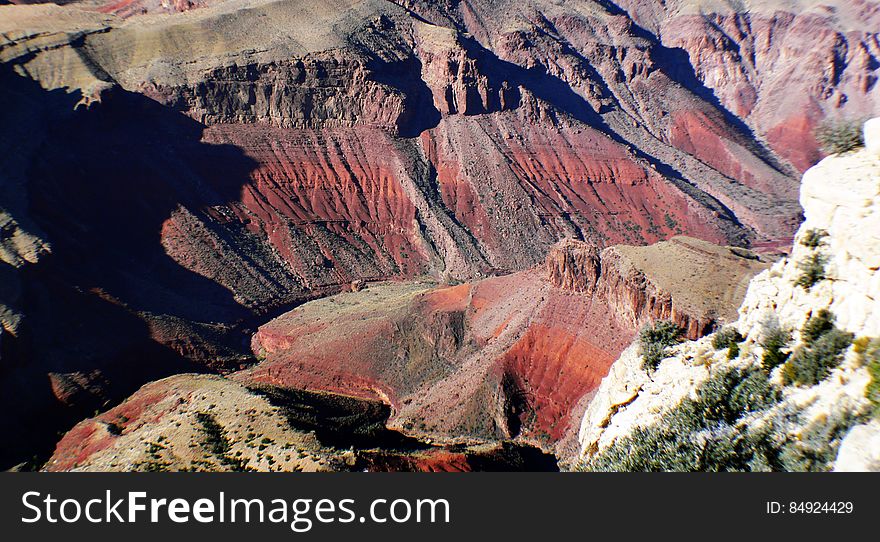 Web 800x429px 28.22cm x 15.1cm@72dpi
HQ 3232x1732px 27.36cm x 14.7cm@300dpi
You can use this free image under the Creative Commons Zero (CC0) public domain license. Support our free section by adding a credit line next to the photo in your design. A suggestion is provided under the title.
The Grand Canyon.
1.The Grand Canyon ranges from 4 to 18 miles wide (6 - 28km) and is 277 miles long (445km) (that's river miles). 2.On average, it is 5000 feet deep (1,524m or over half a kilometre deep) 3.The entire Grand Canyon is essentially tilted: the northern rim is 1200 ft higher than the southern rim. 4.The climate within the canyon is semi-arid, and the floor in Summer can heat up to 106 degrees Fahrenheit (40 degrees Celsius). 5.It is the third largest canyon in the world (exceeded by Barranca de Cabre in Northern Mexico and Hell's Canyon in Idaho). 6.Around 88 species of mammals, 250 - 300 species of birds, 25 types of reptiles and five species of amphibians all live in the Grand Canyon. 7.The first white man to discover the Grand Canyon was García López de Cárdenas in 1540. 8.Scientists suggest it took 3-6 million years to form. 9.It was carved with a single river, the Colorado, by the process of erosion. 10.800 million gallons of water flow through it per hour (that's 3028 million litres). 11.It is a "Natural Wonder of the World". 12.Its base is about 1/3 of the earth's age. 13.The floor of the Grand Canyon contains fossil footprints of over 20 species of reptiles and amphibians, yet no fossilised reptile bones or teeth have ever been uncovered. 14.Due to the absence of actual soil in the Canyon, very little plant life can grow on the floor, except for desert plants. 15.It is the site of the rare Brady Pin-cushion cactus, discovered in 1958. 16.The oldest human artifacts in the Grand Canyon are estimated to be 3000-4000 years old.