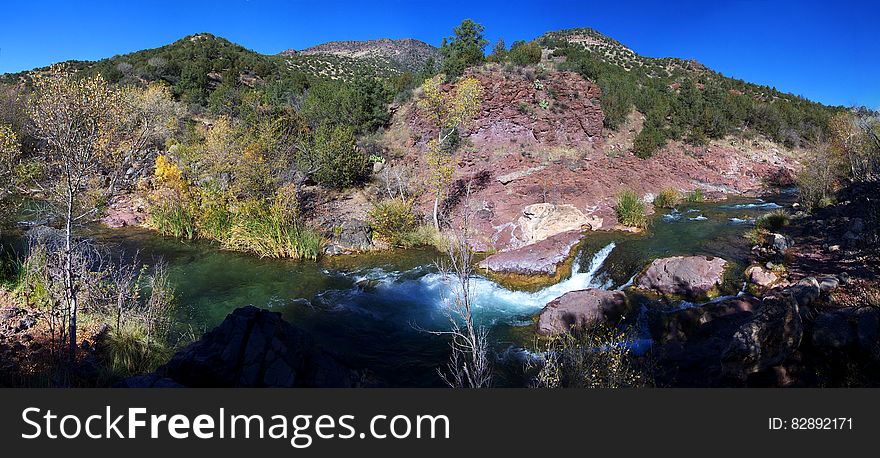 Web 800x352px 28.22cm x 12.4cm@72dpi
HQ 8025x3534px 67.95cm x 29.9cm@300dpi
You can use this free image under the Creative Commons Zero (CC0) public domain license. Support our free section by adding a credit line next to the photo in your design. A suggestion is provided under the title.
Fossil Creek 2006
Fossil Creek just below the Irving power plant site, 2006. The power plant had been decommissioned and the structures were in the process of being removed before the creek was granted the "Wild and Scenic" designation in 2009. Fossil Creek is one of only two National Wild & Scenic rivers in Arizona and is fed by springs coming from the cliffs of the Mogollon Rim. Over 30 million gallons of water are discharged each day at a constant 70°F. The high mineral content leaves travertine dams and deposits, giving rise to fossil-like features. In 2005, Arizona Public Service (APS) decommissioned the Fossil Creek Dam and Flume, restoring full flows to Fossil Creek. The diversion dam at Fossil Springs was partially removed, allowing the creek to flow freely. The flume that once carried water to the power plant was disassembled. The Irving power plant and other buildings around the site were removed. Traces of history remain visible at the Irving site and along the Flume Trail in the form of old building foundations, rock work along the flume's maintenance road, and concrete pilings that once supported the flume. Photo by Deborah Lee Soltesz, November 26, 2006. Credit: Coconino National Forest, U.S. Forest Service. Learn more about Fossil Creek Wild and Scenic River on the Coconino National Forest. This is a stitched panorama. Some portions of the edges (mainly the sky) were edited to fill in areas that were not photographed.