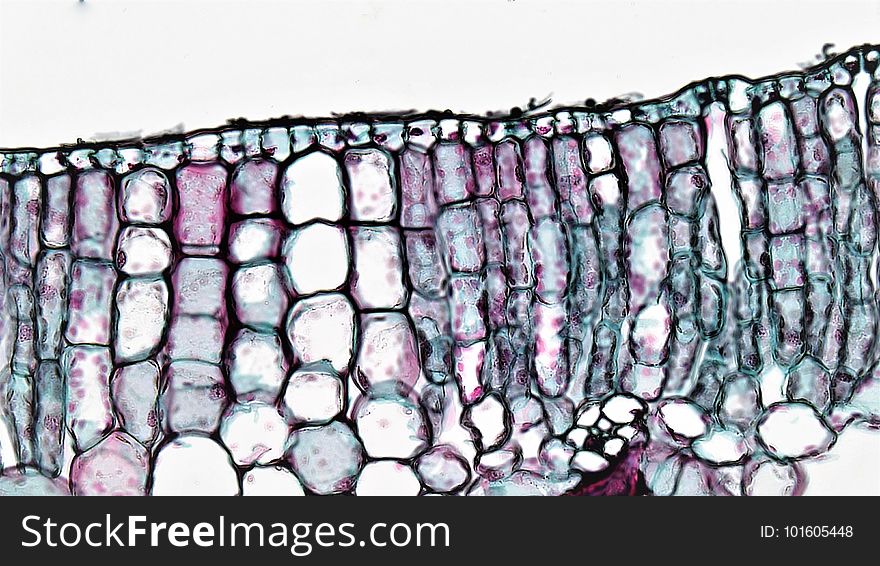 Web 800x451px 28.22cm x 15.9cm@72dpi
HQ 3264x1840px 27.64cm x 15.6cm@300dpi
You can use this free image under the Creative Commons Zero (CC0) public domain license. Support our free section by adding a credit line next to the photo in your design. A suggestion is provided under the title.
Angiosperm Leaf: Palisade Mesophyll in Nymphea
cross section: Nymphea leaf common name: Waterlily magnification: 400x Both the upper (adaxial) and lower (abaxial) epidermis are uniseriate and contain chloroplasts. The air exposed adaxial epidermis is well cutinized and contain numerous stomata that open into large substomatal air chambers. The submerged abaxial epidermis has a very thin cuticle and lacks stomata. Dark staining slime glands are present on the abaxial surface. Deep to the upper epidermis are several layers of tightly packed palisade mesophyll, the chief photosynthetic tissue of the leaf. Most of the leaf interior is occupied by a deeper zone of spongy mesophyll with large air spaces. Large red staining branched astroscleroids are abundant throughout the mesophyll.