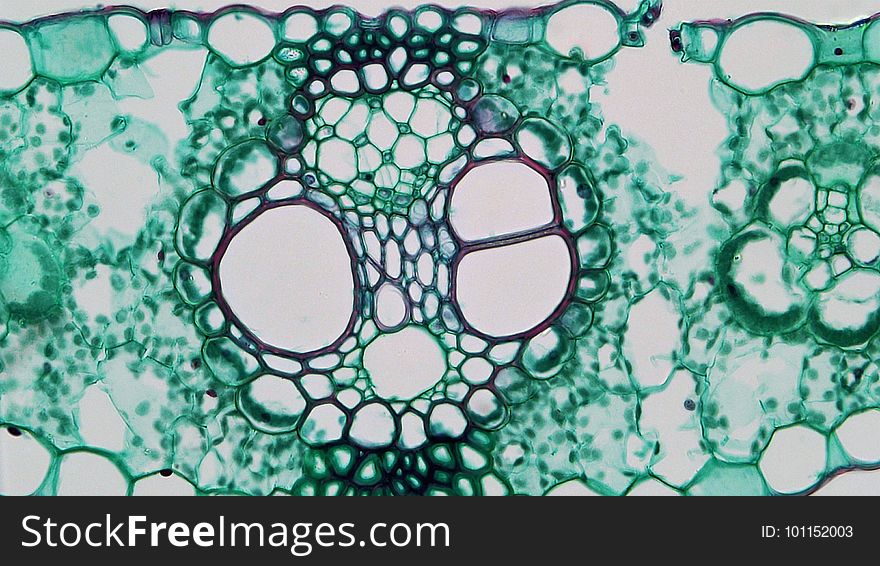 Web 800x451px 28.22cm x 15.9cm@72dpi
HQ 3264x1840px 27.64cm x 15.6cm@300dpi
You can use this free image under the Creative Commons Zero (CC0) public domain license. Support our free section by adding a credit line next to the photo in your design. A suggestion is provided under the title.
Angiosperm Morphology: The Closed and Collateral Vascular Bundle in Zea
cross section:Zea leaf common name: corn magnification: 400x The iso-bilateral leaf of Zea is typical of most monocots. Both upper and lower epidermis are uniseriate and well cutinized. Within the upper, or adaxial, epidermis, large white bulliform cells shrink, allowing the leaf to roll during drought. Stomata are present on both surfaces with guard cells perched above small round substomatal chambers. As with most monocots the mesophyll is unspecialized, being composed of compactly arranged somewhat round chlorenchyma cells. Numerous small and occasionally large vascular bundles are arranged in parallel series along the length of the leaf. The vascular bundles are collateral and closed with xylem of vessels and tracheids towards the adaxial surface and phloem of sieve tubes and companion cells towards the abaxial surface. Cambium is not present. Within each bundle a xylem of two oval metaxylem and a single large protoxylem cavity can be seen. Each vascular bundle is wraped by a bundle sheath of thin walled parenchyma cells. Larger bundles are supported towards both surfaces by masses of sclerenchyma that interrupt the mesophyll to form a patchy hypodermis.