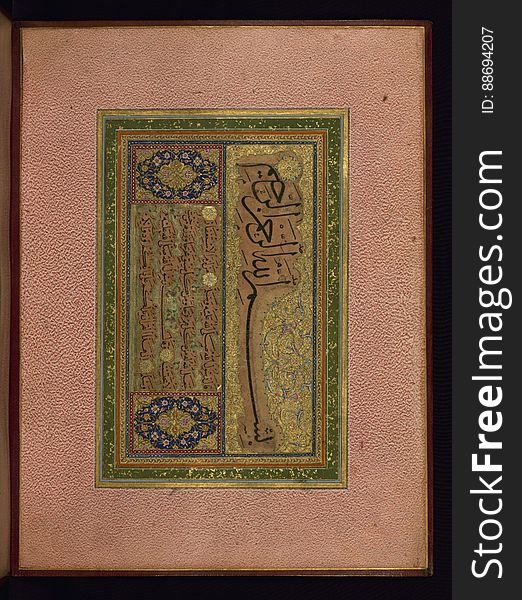 Web 603x800px 21.28cm x 28.2cm@72dpi
HQ 2714x3600px 22.98cm x 30.5cm@300dpi
You can use this free image under the Creative Commons Zero (CC0) public domain license. Support our free section by adding a credit line next to the photo in your design. A suggestion is provided under the title.
Calligraphic page from an album, Walters Art Museum W.672, fol. 2b
An album (muraqqaʿ) of calligraphy in the form of an accordion book put together by an anonymous collector, probably in the 12th century AH/ 18th CE. It consists of leaves bearing fragmentary passages from the Qur'an (Sūrat al-baqarah, 2:65-68 and Sūrat al-nisāʾ, 4:103-106), some sayings of the Prophet Muhammad, and two sheets of pen exercises (ḳaralama). Folio 5a bears the name of the celebrated Ottoman calligrapher Şeyh Hamdullah (Ḥamd Allāh al-Amāsī, d. 926 AH /1520 CE). This page is attributed to Şeyh Hamdullah (d. circa 1520), the most celebrated calligrapher in 16th-century Ottoman Turkey. He was particularly known for his mastery of the "Six Pens," which refer to a series of rounded scripts developed in 13th-century Iraq. The Six Pens were often employed for religious texts. These folios are inscribed with passages from Hadith literature (accounts of what the Prophet Muhammad did or said) and are written in naskh and thuluth, two of the Six Pens. Naskh, the smaller hand, is used for the text on the lower portion, and thuluth for the top lines.