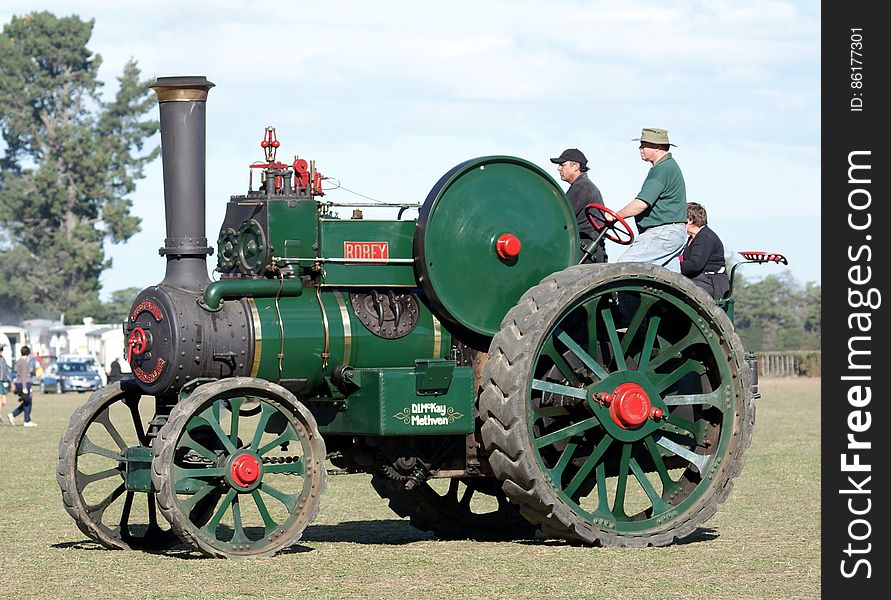 Web 800x584px 28.22cm x 20.6cm@72dpi
HQ 2400x1753px 20.32cm x 14.8cm@300dpi
You can use this free image under the Creative Commons Zero (CC0) public domain license. Support our free section by adding a credit line next to the photo in your design. A suggestion is provided under the title.
The Robey Traction Engine &x28;11&x29;
Robert Robey started business in 1854, manufacturing portable steam engines and thrashing machines. His range of agricultural equipment rapidly expanded; in the Great Exhibition of 1862 "fixed engines, traction engines, ploughing tackle, corn mills, saw benches etc" were on display and soon a complete range of mining equipment was on offer from winding and pumping engines to locomotives, cages and kibbles. About Us About Robey Robey was an innovative firm. Traction engines were built to their own designs and to the patents of others, such as Thomson (road steamers), Savory (ploughing engines), Wm. Box and others. The fixed 'Undertype' was introduced in 1872 and electric motor pumps were on offer by the 1890s. By the turn of the century the firm had been incorporated into a limited company, the works had expanded to cover 15 acres and 20 000 engines and plant had been built. Stationary engines of many types were added to the range, such as the 'Quick Revolution' vertical, for electrical generation. Indeed Robey's 'Globe works' was said to be the first factory in the U.K. lit by electricity. Engines with simple slide valves, expansion gear, piston valves and drop valves were developed for application in many industries (our Class E is a good example of the latter). Colliery winders up to 84" stroke were amongst the largest of these, exported all over the world. Many are still in use in India and elsewhere. The Trust owns one of three examples preserved in England. 'Overtypes', 'Superheater' and 'Uniflow' engines were sold, the latter, the most efficient type of steam engine made, being a speciality of the firm. Engines were made to every configuration; horizontal, vertical and diagonal; duplex, tandem and cross compound cylinders; open and high speed enclosed, all in a variety of sizes and powers.