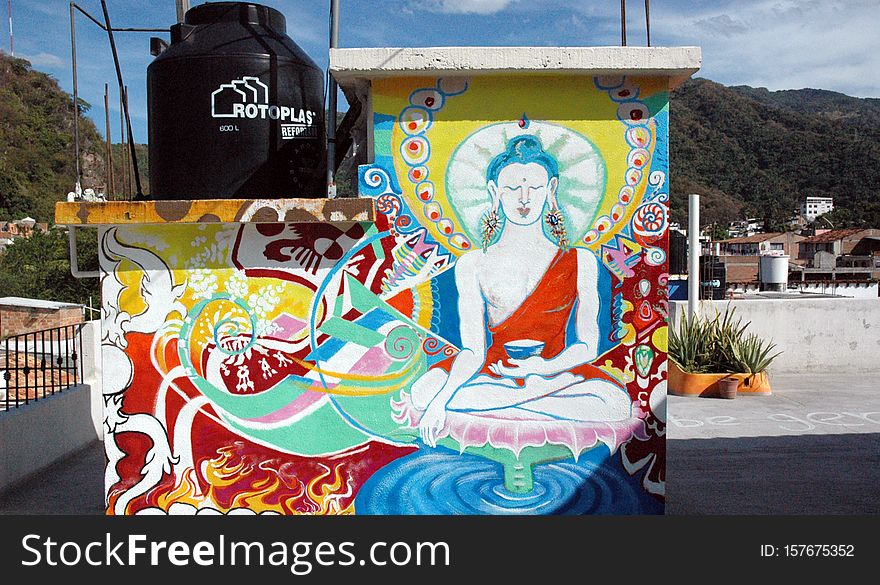 Web 800x532px 28.22cm x 18.8cm@72dpi
HQ 2295x1526px 19.43cm x 12.9cm@300dpi
You can use this free image under the Creative Commons Zero (CC0) public domain license. Support our free section by adding a credit line next to the photo in your design. A suggestion is provided under the title.
A Mexican - Tibetan Buddha rooftop in Puerto Vallarta, Jalisco, Mexico
Mural of Vajrasattva - Dorje Sempa - with Mexican Iconography Fly me round trip from Seattle to anywhere (especially Puerto Vallarta) to paint more murals. A mural mixing Mexican and Tibetan Buddhist iconography on a rooftop in Puerto Vallarta, Mexico, completed Jan 1, 2007. As a mixed image this is not, strictly speaking, an image of Vajrasattva, but Tibetan iconography with Mexican and international iconography in my own style. This is a buddha of purity and purification, part of the basic practices. It was painted as a present for the friends I stayed with there - Rossy and Ariel. It's approximately 7 ft by 7 ft square. It was painted on reinforced concrete. It is on the back of the enclosed staircase. Took a little over 3 days to paint - totally on the fly - no preliminary drawings - I just started painting. To the right of the skulls you will see a skeleton of my friend's dog, Breda. The colorful red section above is influenced by the local Huichol art. Ariel is a homegrown biologist - his company is "Wild Travellers" - he is an ethusiastic eco-tourguide, and conservationist of endangered species of turtles. He was voted the best tourguide by tourists in North Vallarta. This image stands in for a shrine. What I am trying to convey is that Buddhism can be a wholesome and creative influence on Mexican culture. "Rotoplas" on the black plastic container stands for the manufacturing technique - rotational plastic - it's a water filter and storage device - a cistern. -------------------- Mural de Vajrasatva - Dorje Sempa - Iconografía mexicana Vuele ida y vuelta me de Seattle a cualquier lugar (especialmente en Puerto Vallarta) para pintar murales más. Un mural y la mezcla mexicana iconografía budista tibetano en una azotea en Puerto Vallarta, Mexico, completada 1 de enero de 2007. Como una mezcla de imagen esto no es, estrictamente hablando, una imagen de Vajrasatva, pero tibetano iconografía mexicana e internacional con la iconografía en mi propio estilo. Se trata de un buda de la pureza y la purificación, la parte de las prácticas básicas. Se pintó como un regalo para los amigos que me quedé allí - Rossy y Ariel. Es de aproximadamente 7 pies por 7 pies cuadrados. Fue pintado en hormigón armado. Es en la parte posterior de la escalera cerrada. Tomó un poco más de 3 días a la pintura - totalmente en el momento - no hay dibujos preliminares - Acabo de empezar la pintura. A la derecha de los cráneos verá un esqueleto de mi amigo el perro, Breda. La sección anterior de color rojo se ve influida por el arte huichol. Ariel es un biólogo de la casa - su empresa es "Wild Viajeros" - que se trate de una visita ethusiastic ecológica y conservacionista de especies amenazadas de tortugas. Fue elegido como el mejor visita por los turistas en el norte de Vallarta. Esta imagen se encuentra en un santuario. Lo que estoy tratando de transmitir es que el budismo puede ser una sana y creativa influencia en la cultura mexicana. "Rotoplas" en el contenedor de plástico negro representa la técnica de fabricación - de rotación de plástico - es un filtro de agua y dispositivo de almacenamiento - una cisterna.