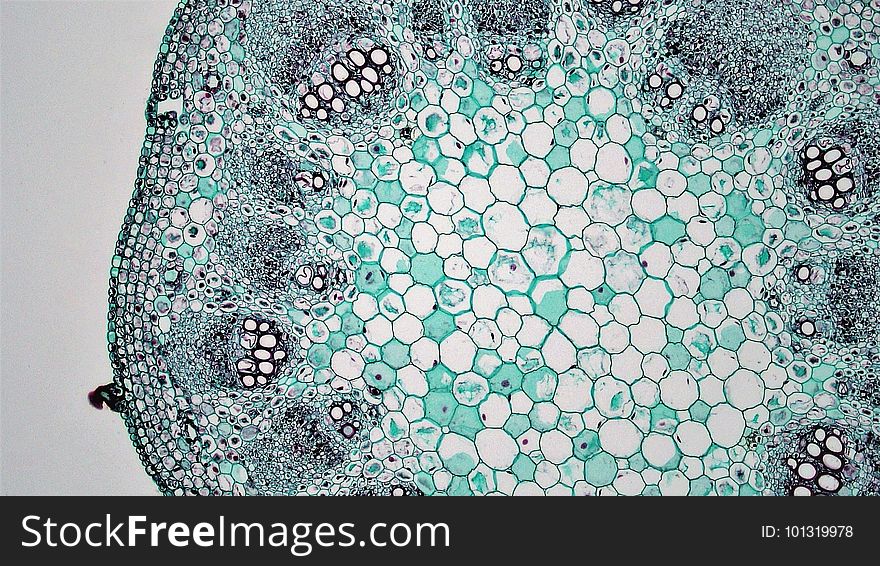 Web 800x451px 28.22cm x 15.9cm@72dpi
HQ 3264x1840px 27.64cm x 15.6cm@300dpi
You can use this free image under the Creative Commons Zero (CC0) public domain license. Support our free section by adding a credit line next to the photo in your design. A suggestion is provided under the title.
Herbaceous Dicot Stem: Parenchymatous Pith in Older Helianthus
cross section: Older stem: Helianthus common name: Sunflower magnification: 100x All vascular tissues in Helianthus are the product of primary growth. There are no signs of secondary growth (growth rings or lateral meristems) as might be seen in woody stems. The uniseriate and cutinized epidermis contains large multicellular trichomes and occasional stomata. The cortex consists of an outermost hypodermis of heavy walled collenchyma, a deeper layer of parenchyma and a deepest band of endodermis (starch sheath). Within the stele the vascular bundles are arranged in a ring and separated from each other by wide medullary rays of parenchyma cells. The collaterally arranged vascular bundles are almost entirely primary phloem and xylem. Each bundle consists of a large outer supportive cap of sclerenchyma fibers (phloem fiber cap), a deeper layer of primary phloem with well-defined sieve tubes and companion cells, and a deepest layer of primary xylem. In between the xylem and phloem, a narrow band of cambium may be seen. In some preparations, the highly lignified cells walls of xylem and mature sclerenchyma are stained red orange. These cells are dead at maturity and can also be distinguished by a heavy cell wall and absence of cytoplasm. The center of the stem is occupied by a pith of parenchyma cells that contain numerous starch storing amyloplasts.